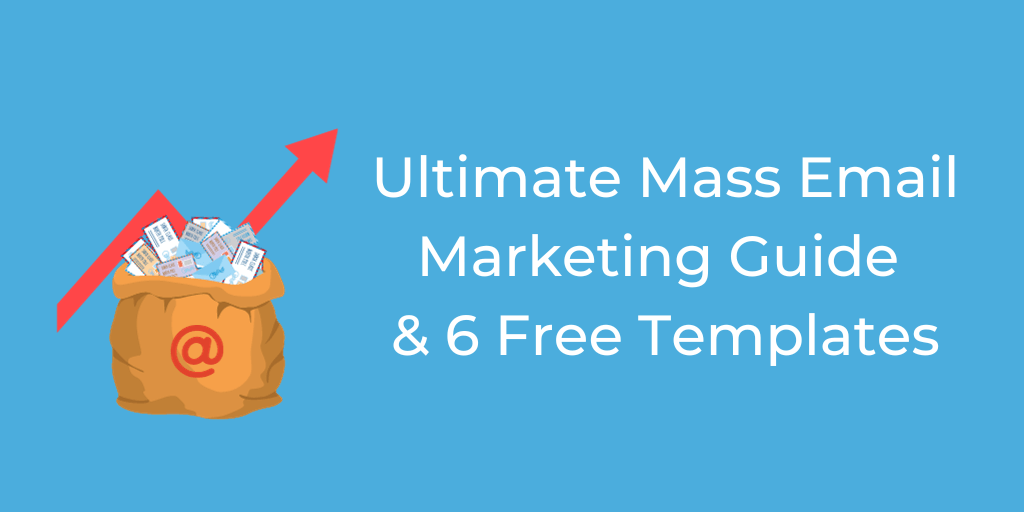 In this guide, we'll be exploring the realm of 'mass email marketing' – a strategy that has proven its worth time and again.
If you've ever wondered about the potential of mass email marketing, questioned its relevance in today's marketing environment, or simply want to use its power more effectively, you've come to the right place!
What Is Mass Email Marketing?
Mass email marketing, also known as bulk email marketing, is a powerful promotional technique that involves sending the same message to a large list of subscribers. The primary goal is to reach as many prospects as possible and convert them into satisfied customers.
In this digital marketing strategy, mass emails are typically delivered to a broad audience, who may or may not have a specific interest in your offerings.
However, modern consumers now expect personalized emails containing information and special offers tailored to their immediate needs.
To meet these high expectations, marketers have embraced email automation, allowing them to send emails at scale and achieve their marketing objectives effectively.
Whether or not you use email automation, mass email marketing can be complicated, and there are a number of benefits, drawbacks, and best practices to be aware of before you begin your journey.
Mass Email Marketing Pros and Cons
Like any marketing strategy, mass email marketing has its advantages and disadvantages. Let's explore the pros and cons to gain a better understanding of its effectiveness:
✅ Mass Email Marketing Pros
Efficiency: Mass email marketing allows you to reach a large audience quickly and cost-effectively.
Wide reach: It enables you to target a broad spectrum of prospects and customers, increasing brand exposure.
Automation: Email automation streamlines the process, allowing you to schedule and send emails with ease.
Analytics: You can track the performance of your campaigns through advanced reporting and analytics, optimizing future efforts.
❌ Mass Email Marketing Cons
Deliverability challenges: Mass emails may face deliverability issues, including landing in spam folders or on blacklists, if not carefully managed.
Lack of personalization: Sending the same message to a diverse audience may result in lower engagement and conversion rates.
Content overload: Consumers receive a lot of emails on a daily basis, making it challenging to stand out and capture their attention.
Compliance issues: Your email campaigns must comply with data protection laws like the CAN-SPAM Act to avoid legal complications.
Understanding these pros and cons is essential for using mass email marketing effectively while mitigating its challenges. It's a valuable tool when used thoughtfully and strategically.
6 Mass Email Templates to Use in Your Campaigns
Mass email templates can play a pivotal role in the success of your email campaigns! They can serve as a great foundation for your own messages. Have a look at some sample templates to inspire your email marketing strategy.
1. Promotional Email Template
Subject Line: Exclusive Offer: 30% Off Your Next Purchase!
Dear [Subscriber's Name],
We have an exciting offer just for you! For a limited time, enjoy a generous 30% discount on your next purchase. Whether you're looking for the latest fashion trends, tech gadgets, or home essentials, we've got you covered.
Shop now and use promo code SAVE30 at checkout to unlock your savings. Don't miss out – this offer expires on [date].
[Shop Now Button]
Thank you for being a valued member of our community. We can't wait to see you online!
Best regards,
[Your Company Name]
2. Newsletter Email Template
Subject Line: Stay Informed: Our Monthly Newsletter is Here!
Hello [Subscriber's Name],
Welcome to the latest edition of our monthly newsletter! We're thrilled to share exciting updates, insightful articles, and exclusive offers with you.
In this issue:
– Feature Article:
– Product Spotlight:
– Community Highlights:
– Exclusive Offer:
Read the full newsletter [here] to stay in the loop. We value your feedback, so feel free to share your thoughts with us.
Thank you for being a part of our community!
Warm regards,
[Your Company Name]
TIP: Learn more about what is a newsletter and 7 steps to build a strategy.
3. Event Invitation Email Template
Subject Line: You're Invited: Join Us for a Special Event!
Dear [Subscriber's Name],
We're thrilled to invite you to an exclusive event that promises an unforgettable experience! Join us for [Event Name] on [Event Date] at [Location].
Here's what you can expect:
– [Event Highlights]
– Networking Opportunities
– Exciting Surprises
– Delicious Food and Drinks
RSVP now to secure your spot. We can't wait to celebrate with you!
[RSVP Now Button]
If you have any questions or need further information, don't hesitate to reach out. We look forward to seeing you there!
Warm regards,
[Your Company Name]:
4. Early Access Exclusive
Subject Line: Early Access Alert: Get Exclusive Benefits Before Anyone Else!
Dear [Subscriber's Name],
We're excited to offer you an exclusive opportunity that you won't want to miss! As a valued member of our community, we're giving you early access to [New Product/Service/Feature] before it's officially launched to the public.
Here's what you'll get with early access:
– Be among the first to experience [New Product/Service/Feature].
– Exclusive discounts and special pricing for early birds.
– Priority customer support to assist you every step of the way.
Don't wait! Grab this chance to [Benefit/Experience] before the rest. Click the link below to claim your early access now:
[Claim Early Access]
Thank you for being a part of our journey, and we can't wait to see you enjoy [New Product/Service/Feature]!
Best regards,
[Your Company Name]
5. Black Friday (or Holiday) Special Offer
Subject Line: Black Friday Bonanza: Unbelievable Discounts Inside!
Hello [Subscriber's Name],
It's that time of the year again – Black Friday is here, and we have some incredible deals waiting just for you! Get ready to save big on your favorite [Product/Service] during our Black Friday Bonanza.
Here's what you can expect:
– [Discount Percentage]% off on [Specific Products/Services].
– Limited-time offers and exclusive bundles.
– Free shipping on orders over [Minimum Amount].
– Early access for our loyal customers.
Don't miss out on these amazing deals! Start shopping now and make this Black Friday unforgettable:
[Shop Now]
Thank you for choosing us as your go-to destination for Black Friday savings. Happy shopping!
Warm regards,
[Your Company Name]
6. Product/Service Showcase
Subject Line: Introducing [New Product/Service]: Elevate Your [Specific Need]!
Hello [Subscriber's Name],
We are thrilled to introduce our latest innovation – [New Product/Service]! Designed to [Highlight Key Benefits], this is the solution you've been waiting for to [Address Specific Needs or Problems].
What sets [New Product/Service] apart:
– [Key Feature 1]: Describe the first standout feature.
– [Key Feature 2]: Highlight another unique aspect.
– [Key Feature 3]: Emphasize a third important benefit.
Discover how [New Product/Service] can transform your [Specific Need]. Explore its features, see it in action, and take the first step toward a [Desirable Outcome]:
[Learn More]
We're here to answer any questions you may have. Feel free to reach out, and let's embark on this exciting journey together!
Best regards,
[Your Company Name]
Mass email templates not only save you time, they'll also provide consistency in your communication with subscribers.
Whether you're promoting products, sharing news, or inviting recipients to events, well-crafted templates can make your email marketing campaigns more efficient and effective.
Just remember to personalize these templates with your brand's voice and adapt them to your specific campaign objectives!
A Guide to Creating a Mass Email Marketing Campaign
Creating a successful mass email marketing campaign requires careful planning and execution. Let's go through the essential steps you need to make your campaign reach the right audience and achieve your marketing goals.
How to Build an Email List
It's not easy to start a mass email strategy without people to send emails to, right? Here's how to get started on building a long, healthy list of emails to send your amazing messages to.
Create engaging signup forms
Design user-friendly signup forms on your website and social media platforms. Make it easy for visitors to subscribe by asking for minimal information, like their name and email address.
Offer incentives
Encourage sign-ups by offering special perks such as discounts, free resources, or exclusive access to content. Clearly communicate the value subscribers will receive.
Optimize landing pages
Be sure that the landing pages associated with your signup forms are optimized for conversions. Remove distractions, and focus on the main call-to-action (CTA).
Run contests and giveaways
Host contests or giveaways that require participants to subscribe to your email list. This can be an effective way to grow your list quickly and even gain brand new customers.
Use social proof
Display social proof elements, such as the number of subscribers, or testimonials from satisfied customers, to build trust with potential subscribers.
Use pop-up forms
Implement exit-intent pop-up forms that appear when a visitor is about to leave your website. These can capture leads who might otherwise have bounced.
Prioritize Mobile optimization
With up to 81% of emails being opened on mobile devices, it's important to make sure that your signup forms and landing pages are mobile-friendly.
With this many users accessing websites from mobile devices, you'll be missing out on a lot of potential customers if your emails are too hard to read on mobile.
Segmentation options
Provide subscribers with the option to choose their email preferences, including the type and frequency of emails they wish to receive. This helps with later segmentation, and will keep your readers happy.
Legal compliance
Always comply with data protection laws such as GDPR or CAN-SPAM. Clearly communicate your privacy policy, and provide an option to unsubscribe. It's important to process unsubscribe requests as soon as possible to avoid any legal implications!
Keep a clean email list
Building a list is one thing, but it's entirely another to maintain it. You'll need to regularly clean your email list to get rid of invalid addresses, hard bounces, and spam traps.
Need some help with tidying up your email list? EmailListVerify is your right hand robot!
How to Segment Your Recipients
Segmentation is the practice of dividing your email list into distinct groups based on specific criteria. This allows you to send targeted and relevant content to different segments of your audience. Here are a few ways you can effectively segment your recipients:
Demographics
Segmenting your email list based on demographics allows you to target specific groups of subscribers with content tailored to their unique preferences. Consider these key demographics for segmentation:
Age: Create content that resonates with different age groups, whether it's youth-focused messaging or content suited for older audiences.
Gender: Create your emails to appeal to specific gender preferences and interests.
Location: Send location-specific promotions or events to subscribers based on where they are in the world.
Job title: Customize your messaging for professionals in different industries or roles.
Behavioral data
Analyze how subscribers interact with your emails and website, and separate your readers based on specific actions they take.
Website visits: Target subscribers who frequently visit your website with product updates or exclusive website offers.
Email opens: Send follow-up emails to engage subscribers who regularly open your emails but haven't made a purchase.
Clicks: Identify subscribers who click on specific product categories and send relevant product recommendations.
Past purchases: Offer personalized discounts and recommendations based on subscribers' previous purchase history.
Purchase history
Create segments of customers based on their purchase history. Offer personalized product recommendations and exclusive offers based on their buying behavior.
You could reward loyal customers, follow-up about recent purchases, or give inactive customers a little nudge (or incentive!) to remind them you're still there.
Engagement level
You can also segment subscribers by their engagement level. Identify highly engaged subscribers who regularly interact with your emails, or re-engage less active ones.
You can send VIP or exclusive content to your more engaged subscribers, or entice the ones who are less engaged with some type of incentive or other inviting content.
Email preferences
Allow subscribers to choose their email preferences during signup. This way, your customers only receive the emails they want, and are more likely to engage.
Email frequency: Allow subscribers to choose how often they receive emails, ensuring they get the content they want.
Content topics: Segment based on subscribers' interests, whether it's fashion, technology, or other categories.
Product categories: Customize product recommendations based on subscribers' preferences.
Abandoned carts
If you run an e-commerce business, you can segment users who have abandoned their shopping carts. Send targeted emails with reminders and incentives to complete their purchase.
Cart reminders: Send personalized emails reminding users about their abandoned items, including incentives to complete the purchase.
Product recommendations: Suggest related products to entice cart abandoners back to your website.
Customer journey
Map out your company's customer journey and segment subscribers accordingly. This can help you send the right content at each stage of their interaction with your brand.
Awareness stage: Send educational content and introductory offers.
Consideration stage: Provide product comparisons and reviews.
Decision stage: Offer incentives and discounts to encourage conversion.
Post-purchase: Send follow-up emails for feedback and loyalty rewards.
How to Choose an Email Marketing Tool
Having the right tools for your mass emails is a major leg up in terms of time saved and emails sent.. But how do you choose the right one? Consider these factors when making a selection:
👍 Ease of use: Look for a tool that is user-friendly and offers a smooth onboarding process.
👍 Automation: Automation features are essential for sending targeted emails at the right time.
👍 Segmentation: Confirm that the tool supports advanced segmentation options so you can send personalized content to different audience segments.
👍 Analytics and reporting: Robust analytics and reporting features are vital for tracking the performance of your campaigns.
👍 List management: The tool should allow you to import, export, and clean your email list easily.
👍 Integration: Check if the tool integrates with your existing software and platforms, such as CRM systems, e-commerce platforms, and social media.
👍 Deliverability: Make sure the tool has measures in place to improve email deliverability and avoid spam folders.
👍 Compliance: Verify that the tool complies with data protection laws like GDPR or CAN-SPAM to prevent legal issues.
4 Email Marketing Tools
There are a lot of choices out there! Have a look at these popular services to see if any of them are right for you:
Mailchimp
Mailchimp is a widely used email marketing platform known for its user-friendly interface and a range of features. It offers various templates, automation options, and a great array of analytics to study.
| | |
| --- | --- |
| ✅Pros | ❌Cons |
| User-friendly interface | Limited advanced automation on the free plan |
| Extensive template library | Pricing can become costly for larger email lists |
Constant Contact
Constant Contact is a popular email marketing service with a strong focus on ease of use and professional-looking templates. It also provides tools for event management and social media integration.
| | |
| --- | --- |
| ✅Pros | ❌Cons |
| User-friendly and intuitive | Pricing may be higher than some competitors |
| Extensive library of professionally designed templates | Limited automation capabilities compared to advanced platforms |
| Integration with event management and social media | |
HubSpot
HubSpot offers an all-in-one marketing platform that includes email marketing, CRM, and a suite of other marketing tools. It's known for its powerful automation and integration capabilities.
| | |
| --- | --- |
| ✅Pros | ❌Cons |
| Comprehensive marketing suite | Can be complex for beginners |
| Advanced automation and personalization features | Pricing may be steep for small businesses |
| Integration with CRM and other marketing tools | |
NyxionAI
NyxionAI is an emerging player in the email marketing space, known for its AI-driven personalization and predictive analytics. It aims to provide highly targeted and effective email campaigns.
| | |
| --- | --- |
| ✅Pros | ❌Cons |
| AI-driven personalization for better targeting | Relatively new in the market, limited user feedback |
| Predictive analytics for campaign optimization | Features and pricing details may vary as the platform evolves |
| Focus on delivering highly relevant content | |
Best Practices for Mass Email Marketing
To maximize the effectiveness of your mass email marketing campaigns, following the tried and true best practices are sure to make your email marketing efforts a success.
Warm Up Your Inbox & IP
Warming up your email inbox and IP address is essential to establish a positive sender reputation. Here's how to do it:
Start slow: Initially, send a low volume of emails to your subscribers. Gradually increase the volume over a few weeks.
Send engaging content: Focus on sending valuable and engaging content during the warm-up period to encourage interaction.
Monitor deliverability: Keep a close eye on your email deliverability rates. If you notice issues, pause your campaign and investigate.
Authenticate your domain: Implement email authentication methods like SPF, DKIM, and DMARC to improve deliverability and security.
Want to take the work out of this lengthy process? Warmup Inbox offers IP warming using real inboxes that will boost your sender reputation sky-high and perfectly prime your inbox for sending.
Clean Up & Verify Your Email List
Maintaining a clean and verified email list is an ongoing process that requires some special care and attention on your part. Follow these tips to keep your email list squeaky clean and free of invalid addresses and spam traps
Remove inactive subscribers: Regularly remove subscribers who haven't engaged with your emails for an extended period.
Use verification tools: Utilize email verification tools to identify and remove invalid or fake email addresses.
Manage bounces: Pay attention to bounce rates and categorize them as hard bounces (invalid addresses) or soft bounces (temporary issues), and remove hard bounces.
Segment inactives: Segment inactive subscribers and attempt to re-engage them with targeted campaigns.
Use a double opt-in: Using double opt-in confirmations ensures that subscribers genuinely want to receive your emails.
Monitor complaints: Keep an eye on spam complaints and take action promptly to address any issues.
Cleaning your email list on your own is a time-consuming, tedious process. Why not make it easy on yourself and use EmailListVerify? EmailListVerify is an email verification tool that automatically cleans your email lists, saving you time and effort.
Want to see how easy it is? Sign up and verify 100 emails for free!
Choosing the right email marketing tool, following best practices, warming up your inbox, and maintaining a clean email list, will help you be well-equipped to execute successful mass email marketing campaigns that reach your target audience and keep them engaged and happy.
What to Avoid When Doing Mass Email Marketing
While mass email marketing can be a powerful tool for reaching a large audience, there are several pitfalls to avoid to ensure your campaigns are successful and comply with best practices.
Here's what you should steer clear of:
❗Sending unsolicited emails: Never send emails to individuals who haven't explicitly opted in to receive communications from you. Unsolicited emails can result in spam complaints and damage your sender reputation.
❗Purchasing email lists: Avoid buying email lists. These lists often contain outdated or inaccurate information and can lead to high bounce rates and spam complaints.
❗Misleading subject lines: Avoid clickbait subject lines that mislead recipients. Be clear and honest about the email's content to build trust.
❗Ignoring testing: Always test your emails before sending to check for formatting issues, broken links, and how they appear on different email clients.
❗Neglecting analytics: Don't overlook tracking and analyzing your email campaign metrics. Insights from analytics help you refine your strategy.
❗Sending too frequently: Bombarding subscribers with emails can lead to unsubscribes. Find a balance that suits your audience's preferences.
Avoiding these common mistakes in mass email marketing will help you maintain a positive sender reputation, improve engagement rates, and build trust with your subscribers, ultimately leading to more successful campaigns.
Conclusion
In digital marketing, where trends and tactics evolve at breakneck speed, mass email marketing remains a potent strategy for reaching a wide audience and achieving your business goals. Understanding the nuances of this approach, from what it is to the best practices and potential pitfalls, can make all the difference in the success of your campaigns.
But to truly excel in mass email marketing, you need more than just knowledge – you need the right tools. Be sure to check out EmailListVerify and Warmup Inbox to help boost your mass email marketing campaigns!