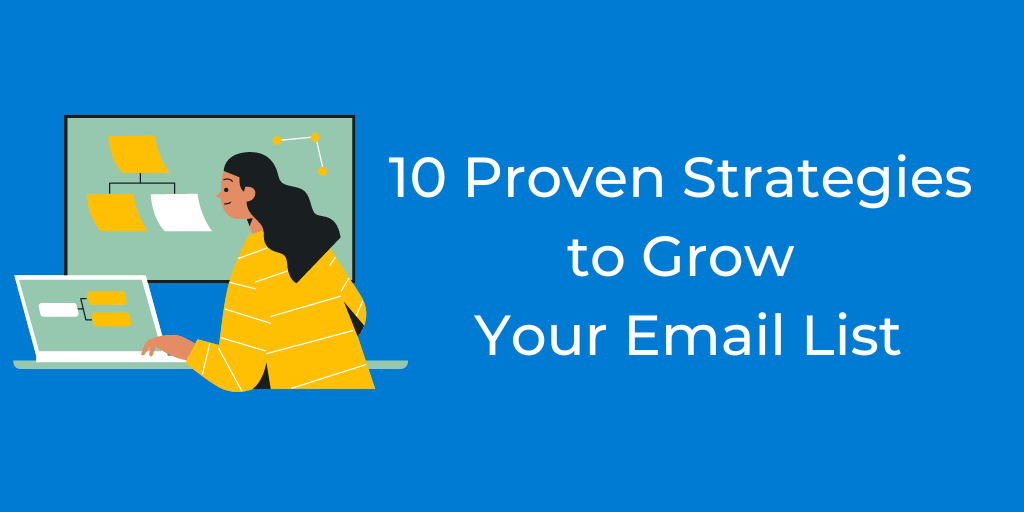 As the popular saying goes, "The money is in the list!"
In digital marketing lingo, this refers to your email list — a database of names and emails from people you can contact at any time to unveil a new product, share a great deal, or present a new service.
Used well, an email list can be a goldmine for any business.
Building such a list can feel daunting, but don't worry, we've got your back! Here's a comprehensive guide to 10 tried-and-tested ways to jumpstart your email list growth.
Why an Email List is Important
Before we dive into list-building strategies, let us remind you why an email list is so important.
E-mail remains a significantly more effective way to acquire customers than social media—nearly 40 times that of Facebook and Twitter combined (exhibit).

That's because 91 percent of all US consumers still use e-mail daily, and the rate at which e-mails prompt purchases is not only estimated to be at least three times that of social media, but the average order value is also 17 percent higher.

Source: McKinsey & Company
So, owning (and continuously growing) an email list isn't just good business; it's smart business. Let's get your email list growth into overdrive with these 10 easy tips.
Tip: Keeping your email list clean through regular verification ensures higher deliverability rates, minimizes the risk of being flagged as spam, and ultimately enhances engagement with your audience, resulting in more effective email marketing campaigns.
1. Use High-Quality Content
Content isn't just king — it's a game-changer when it comes to building an email list. According to a survey by ExpertMarket:
91% of B2B marketers use content marketing to reach customers
72% of marketers say content marketing increases engagement
72% of business leaders say content marketing also increases their number of leads
If you ask people to sign up for your email list in exchange for articles that offer actionable, real-world advice, readers will flock to subscribe.
2. Create a Lead Magnet
If content is king, then the lead magnet is the queen.
A lead magnet is essentially a trade-off: you offer something of value to your potential customers, and they offer you their email addresses.
Think of it as a digital barter system directly beneficial to their target audience — just find out what your audience wants, package it as a lead magnet, and watch your email list surge.
An effective lead magnet doesn't need to be complex to be effective. For example, anybody signing up for Digital Marketer's mailing list gets an ebook filled with Facebook ad campaign templates.
Brands that aren't as well known might need to step up their game to engage people. Budget-living site Living Well Spending Less invites people to join their waiting list for new product releases and in exchange receive free access to a Creative Planning Workshop.
SQUARESPACE Web Design Agency GoLiveHQ offers a number of freebies for those signing up for their email list — including marketing resources, worksheets, and a free SQUARESPACE website template.
Any valuable online tool or resource – an ebook, a template, a checklist – can work if you provide something your audience wants.
3. Host Webinars or Online Events
Ever attended a webinar? They're like classrooms of the digital world.
But more than that, they're potential goldmines for email addresses. As participants sign up for your webinar using their email addresses, you have a ready list of people interested in your expertise—your potential customers.
Plus, you can keep the conversation going post-webinar with follow-up emails, keeping your brand fresh in their minds.
Data collected by LiveWebinar shows that while only 41% of marketers have actually hosted or participated in a webinar, 83% found it an effective strategy for list growth and lead generation, with a high percentage adding that "webinars are cost-effective as they help lower the cost-per-lead and provide a positive ROI."
Webinars help position you as an authority in your field, let you engage directly with your audience, and offer a great opportunity to talk about your product or service without sounding too salesy.
In fact, as long as you're providing value to those listening, it's a win-win situation.
4. Promote Your Email List on Social Media
Social media can be a critical ally in growing your email list.
In fact, Indeed points out that "Email marketing is better for building relationships with current customers, while social media marketing can help you build brand recognition with potential customers."
In simple words? Reach out on social media to get people to know you, like you, and sign up for your email list.
Leveraging this tactic effectively usually requires a multi-front approach. Depending on where your audience hangs out, this could, for example mean:
hosting Twitter chats
creating YouTube tutorials with call-to-action cards
capturing leads on SlideShare
using a lead-generating Facebook ad
Remember, your social media followers are already interested in your brand. A little nudge (in the form of exclusive offers) is often enough to convert them into email subscribers.
5. Use a Website Pop-up Form
Pop-ups often get a bad rap and some people really do hate them with a passion. But when used effectively, they can contribute significantly to growing your email list.
For example, when email capture tool Sumo analyzed data from almost two billion pop-ups, they discovered pop-up conversion rates are actually quite impressive.
Although the average conversion rate for all pop-ups was 3.09%, some had conversion rates as high as 9.28% — that means if you get 150 visitors per day to your site, you might be able to add as many as 418 emails to your list every month.
Australian-based health and wellness company SkinnyMe Tea had even more impressive results when they added a pop up with an incentive of a 10% off promo code to new subscribers — the pop-up alone increased email opt ins by 758%.
The trick to using pop-ups effectively is to make them attractive and not too intrusive. Keep it simple, keep it small and make sure the style and design match your brand. And above all, make sure the offer is irresistible.
Tip: Learn how to make a popup using HTML, CSS and JavaScript.
6. Provide Exclusive Offers
Everyone loves feeling valued and special — and you can help your customers feel exactly that way by promising them exclusive offers and special deals if they sign up for your email list.
Birchbox, a beauty subscription box service, does this brilliantly by asking for more information about customers' interests and preferences upfront.
After that, their first email includes a 15% welcome discount, followed by additional special offers (like "Get 20% off site-wide"), free shipping, and even a loyalty program.
Their strategy taps into the natural human desire for exclusivity, rewarding those who sign up for their email list by offering great deals. So whether you're offering early access to new products, subscriber-only discounts, or special bundles, make sure the offer is hard to resist and you'll get people to sign up.
7. Partner with Other Businesses
Strategic partnerships can significantly accelerate the growth of your email list. This method involves aligning your business with a similar or complementary company, and then sharing resources for mutual benefit.
For example, GoPro and Red Bull have been collaborating for years — both are lifestyle brands that cater to action-packed sports and by partnering, the two companies are expanding their reach to new audiences.
In 2015, Starbucks and Spotify entered into a partnership that Forbes called "digital co-branding genius." The collaboration meant Spotify users were able to receive "Stars as Currency" for My Starbucks Reward (MSR) Points, while Starbucks fans could curate Spotify playlists based on Starbucks' music picks.
These collaborations are great examples of how two companies can effectively double their reach without doubling their efforts.
8. Use a Scroll Box or Exit Intent Popup
Scroll boxes and exit-intent popups are similar to general pop-ups, except they're triggered when a user is about to leave your site. They offer you one last chance to capture somebody's email, so they need to be amazing to be effective.
For example, when technology and digital marketing agency added a targeted exit-intent opt in offering a coupon when booking a hotel room, "53% of abandoning visitors clicked on the button to receive the discount."
Entrepreneur Ryan Robinson had even better results when he added an exit-intent pop-up to his website offering exclusive content and tips. Overnight, the opt in began converting at almost 6%, with a final result equivalent to a 500% increase in email subscribers.
Fitness company Crossrope did even better, growing their email list by 900% while at the same time recovering nearly 8% of abandoning visitors by offering a discount in their exit pop-up.
9. Run Contests or Giveaways
Let's face it — everyone loves getting something for free. And what better way to satisfy that need than adding contests and giveaways to your email list growth strategy?
A report by content marketing agency Outgrow found that giveaways had an average conversion rate of over 34% — significantly higher than other types of content.
For example, when Basil Thai Cuisine restaurant added a giveaway to their WordPress website, they more than doubled the size of its email list.
The giveaway, which consisted of five $20 gift certificates for the restaurant, resulted in an email list growth of 52%, as well as "105 reactions, 11 comments, and 28 shares" on their Facebook page, boosting engagement and increasing reach.
While the quality and value of the prize is important, it's even more important to choose a reward that is closely tied to your brand and appealing to your target audience so you get quality subscribers that are also genuine fans of your product or service.
10. Use Email Signatures
Your email signature is essentially free advertising space — so why not use it to grow your email list? For example, the simple act of including a "Subscribe to our newsletter" link in your email signature can lead to substantial list growth.
If you're a small company, you can add this even to your personal email, as well as any company email response when people reach out with questions.
According to data collected by eCommerce Fastlane, "emails that include a professional email signature yield 22% more clicks, 32% more replies, 10% growth in social media reach, and 15% more leads."
Final Thoughts
With these strategies, you'll be well on your way to a strong email list — but while you work on growing your subscriber count, remember that it's equally important to maintain the health of your list for maximum deliverability.
This is where EmailListVerify comes into play. With it, you can vet your list before launching your next campaign to dramatically reduce your bounce rate and protect your sender reputation from being penalized by ISPs.
Try 100 FREE email verifications
At the end of the day, a bigger email list is important, but a clean and responsive one is priceless.
Happy list-building!